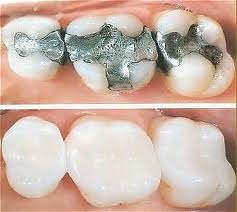 Are you looking for great dentists that offer tooth colored fillings in the Lawrenceville area? For the finest quality tooth colored fillings in Lawrenceville, trust the professionals at Mansouri Family Dental Care & Associates. We are a family dental practice offering the Gwinnett County residents a full range of cosmetic dental services including tooth colored fillings. Our dentists are highly trained and experienced in placing composite fillings. Our natural looking, tooth-colored fillings are extremely durable and result in beautiful, long-lasting smiles. If you are tired of looking at your old, silver and gold fillings, or if you are in need of a new filling, schedule an appointment with one of our talented dentists today.
Natural Colored Fillings
If you live in Lawrenceville or the surrounding area and are interested in natural colored fillings, call the cosmetic dental experts at Mansouri Family Dental Care & Associates in Lawrenceville. We offer fillings made of composite, a natural looking material that can be bonded to teeth to fill a space where the tooth has become decayed. Our composite fillings are beautiful in appearance, are made to last, and can be completed in a single visit. Since the composite material is actually bonded to the tooth, there are no filling leaks and less of chance of the tooth cracking.
White Fillings
Restore your smile today with beautiful, natural looking, white fillings from Mansouri Family Dental Care & Associates in Lawrenceville. Our dental practice is currently accepting new patients and we would welcome the opportunity to care for you or a member of your family. Our practice accepts most forms of dental insurance. We also welcome patients without insurance and offer affordable pricing on preventative dental care for our valued patients with no insurance. Please contact our Lawrenceville Tooth Colored Fillings Experts today to schedule an appointment. We thank you for allowing us to take care of your dental needs and we look forward to exceeding your expectations.