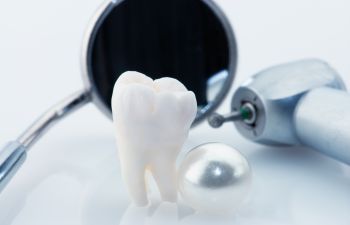 March is Women's History Month and in keeping with this year's theme of Providing Healing, Promoting Hope, we are going to look at a few of the female pioneers in dentistry. Considering that the United States has been a nation for hundreds of years, it is curious that women were not allowed into the field of dentistry until the mid-1800s.
The first women dentists did not have an easy time. However, once their gifts of healing were acknowledged, they inspired others to follow suit. These brave women gave hope to other females and paved the way for them to provide healing and oral health care to people of all walks of life.
Sneaking in the Back Door
Emeline Roberts was only seventeen when she married Dr. Danel Jones in 1854. He was a dentist and apparently inspired Emeline to follow in his footsteps, although when she asked him to teach her, he denied her the right to learn. Like other men in the field, he believed that a woman's hands were too frail and clumsy to manage the tasks of oral care and one learned by apprenticeship in those days.
Not to be denied, Emeline took it upon herself to study secretly and begin practicing without her husband's knowledge. When he did find out, he was surprised to learn that she had already performed hundreds of extractions and fillings on her own. He was so impressed that he allowed her to practice with him. By the time she was 23, Dr. Jones made Emeline a full partner in his practice.
Emeline earned a reputation as an excellent dentist and continued to practice for many decades even after her husband died. She raised two children by herself and managed to maintain a thriving dental practice until she retired in 1915. Her son studied dentistry with her, then went on to earn his DDS from Harvard University. He also received a medical degree from Yale before joining his mother's practice.
Breaking Down the Color Barrier
Although an orphan in the south and a student in segregated schools, Ida Gray managed to find her way north where she attended high school. There she met Dr. Jonathan Taft. Previously, Dr. Taft had taught Lucy Hobbs Taylor, who became the first woman to receive her DDS. Ida Gray worked in Dr. Taft's dental office while attending school. Taft was an early supporter of a woman's right to become a dentist and encouraged Ida to apply to dental school.
Her experience working in Taft's office for three years helped her pass her entry exam for the University of Michigan Dental School where she received high marks for her classes. After graduating, she lived in Cincinnati, Ohio, and met her husband James S. Nelson. They eventually moved to Chicago where Dr. Gray became the first African American dentist. She practiced in an African American neighborhood, but soon became a dentist to people of all races.
Dr. Gray was an inspiration for many people, especially one of her patients, Olive M. Henderson. Ms. Henderson went on to become the second African American dentist in Chicago.
Dentistry has come a long way since the days when barbers were often the town dentists. When your family needs oral care, contact Mansouri Family Dental Care & Associates, where you can be assured of receiving the finest dental care with cutting-edge technology and a staff devoted to your comfort.
Posted on behalf of Mansouri Family Dental Care & Associates
4720 Lower Roswell Rd
Marietta, GA 30068
Phone: (770) 973-8222
Email: MFamilyDental@gmail.com
Monday, Wednesday & Thursday: 7:30 am - 6:00 pm
Tuesday: 7:30 am - 5:00 pm
Friday: 7:30 am - 3:30 pm