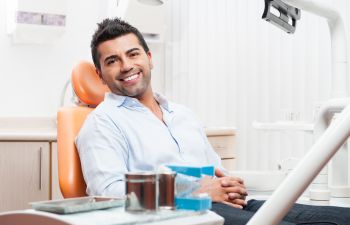 When it comes to your smile, your oral health needs to be a priority. You only get one set of permanent teeth in your lifetime, so caring for and protecting your teeth is incredibly important. Good oral health care consists of two parts: protecting your teeth and correcting issues as soon as they occur.
The role of oral health is totally up to you. The best way to prevent an oral health issue is to protect your teeth. Are you an avid flosser? Do you brush your teeth at least twice a day? Do you avoid sugary beverages? Do you make routine dental checkups a priority? If you answered no to any of those questions – you need to rethink your oral healthcare approach.
What happens if an issue arises that affects the health of your smile? If you have a tooth or area inside your mouth that is painful, you need to have the problem corrected as soon as possible. Ignoring an oral health issue will not make it go away; it will only make it worse.
Painless Root Canals
A root canal is a restorative dental procedure used to repair and save a badly decayed or infected tooth. In the past, many people avoided root canals like the plague because they associated the procedure with intense pain. This is totally incorrect! A root canal is done to take away the pain from a damaged tooth. Without a root canal procedure, the tissue surrounding the affected tooth will become infected and extremely painful. A root canal procedure carefully removes the nerve and pulp from the infected tooth, and then the inside of the tooth is cleaned and sealed.
At Mansouri Family Dental Care & Associates, we are committed to restoring and enhancing the natural beauty of your smile using conservative, state-of-the-art dental procedures that result in beautiful, long-lasting smiles. Please know that a root canal procedure is not painful – an infected or damaged tooth is painful!
For painless root canals, please contact our practice today to schedule an appointment. We offer local anesthesia as well as sedation dentistry to help keep patients relaxed, comfortable, and free of pain.
Posted on behalf of Mansouri Family Dental Care & Associates
4720 Lower Roswell Rd
Marietta, GA 30068
Phone: (770) 973-8222
Email: MFamilyDental@gmail.com
Monday, Wednesday & Thursday: 7:30 am - 6:00 pm
Tuesday: 7:30 am - 5:00 pm
Friday: 7:30 am - 3:30 pm