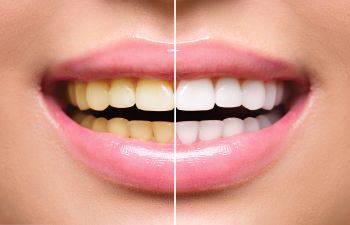 One of the easiest ways to enhance your appearance is by brightening up your smile. When you think of your smile as your greatest accessory, you will go to extra lengths to keep it beautiful. While proper oral hygiene is the best thing that you can do for your smile, teeth whitening is a simple process that can significantly transform even the healthiest smile. If your smile is looking a bit dingy, you may be interested in brightening it up. While not an "essential service" that dental practices can perform right now, here is information to help you get ready for the process of whitening your teeth soon.
The first thing to understand is that professional teeth whitening is safer, faster, and more effective than over the counter whitening methods. While OTC whitening strips or toothpaste can seem appealing to your convenience and your wallet, they are at a disadvantage in all areas.
Repetitive use of over the counter whitening treatments can result in unwanted outcomes. Many people find that they get chemical burns on their gums and soft tissues in the mouth from the whitening gel coming into contact with these areas. Also, OTC products do not take into account any tooth decay or pre-existing conditions that could pose problems to whitening your teeth.
When you visit a dentist for a professional teeth whitening procedure, you are ensured that you will have ultimate results. Most professional teeth whitening procedures deliver outstanding results in just one visit! OTC products cannot provide the same results, even after weeks of using the products. Years of stains and discoloration can be erased in around an hour at the dentist's office. That means, in just your lunch break, you can achieve a bright smile that will enhance your whole appearance!
For a premier teeth whitening dentist that you can trust to help you safely and effectively brighten your smile, contact Mansouri Family Dental Care & Associates.
Posted on behalf of Mansouri Family Dental Care & Associates
4720 Lower Roswell Rd
Marietta, GA 30068
Phone: (770) 973-8222
Email: MFamilyDental@gmail.com
Monday, Wednesday & Thursday: 7:30 am - 6:00 pm
Tuesday: 7:30 am - 5:00 pm
Friday: 7:30 am - 3:30 pm