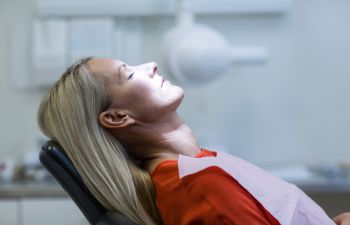 Many people dislike going to the dentist. An excellent family dentist knows that dislike often covers some fear. One of the best progressions in dentistry is dental sedation. It could just change how you see visiting dentists.
What is Sedation Dentistry in Marietta?
Sedation dentistry uses several levels of sedation to help anyone who anticipates problems or fears before a dental procedure. At Mansouri Family Dental Care & Associates, we want every patient to be as comfortable as possible when receiving care. No matter the reason, we are happy to discuss our sedation options ranging from nitrous oxide, commonly called laughing gas, to oral sedation or IV conscious sedation.
These options allow all our patients to comfortably receive the dental care and maintenance they need without overwhelming fear or pain. If you want sedation dentistry, ask your dentist or hygienist to discuss the possibility.
Is Fear (or Dislike) of the Dentist Common?
Most dentists will acknowledge that they have plenty of clients who do not love coming in for routine oral care. Many people, even throughout adulthood, have a large apprehension regarding dentists who wield drills and scrapers. Some fears stem from a single unpleasant childhood visit, especially for people who are a bit older.
Regardless, fear of the dentist prevents too many people from getting regular dental care. For others, health conditions, whether dental or not, can be painful, and they want to eliminate that barrier. Regardless of the reason a patient or the dentist brings up sedation options, it's good to know when you can depend on a safe, potentially game-changing dental procedure that sedates you or your loved one during a procedure.
Sedation Dentistry Can Eliminate Your Fears
We want you to have healthy teeth and gums and remain free from problems while maintaining a lovely smile. So, when we can make that a possibility through sedation, we're happy to do that. We will discuss the three options, and the best option for the situation will be used. Once that fear is relaxed, the objection to treatment goes away and our patients get the superior dental care they need and want.
The team at Mansouri Family Dental Care & Associates has extended training and practice in using safe, effective sedation during dental care. Please contact us today to get your dental care back on track.
Posted on behalf of Mansouri Family Dental Care & Associates
4720 Lower Roswell Rd
Marietta, GA 30068
Phone: (770) 973-8222
Email: MFamilyDental@gmail.com
Monday, Wednesday & Thursday: 7:30 am - 6:00 pm
Tuesday: 7:30 am - 5:00 pm
Friday: 7:30 am - 3:30 pm