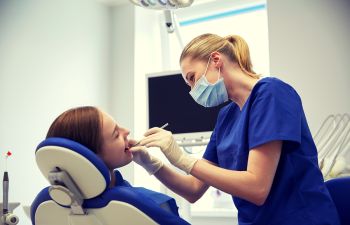 Dental emergencies can be a terrifying situation. For those who are very particular about their teeth and oral health, a dental emergency can be especially frightening. Knowing which dentist to contact in an emergency dental situation is crucial. Not all emergency dentists are equal. While it can be tempting to visit the nearest dentist or the one with the first available appointment, it is important to do your research ahead of time so that you find a quality dentist that you can trust in emergencies.
What to Look For
Reputation – Ask around. If you needed your house painted, needed a plumber, or were looking for a new hairstylist, you would ask your friends and neighbors. To learn the reputation of an emergency dentist, ask existing patients, or read multiple online reviews.
Services and Skillset – You must choose an emergency dentist who is capable of treating your dental emergency. You need an emergency dentist who offers a wide array of dental services in general, restorative, and cosmetic dentistry. In many dental emergencies, all of these fields are needed in treatment.
Accessibility and Wait Times – You will need a dentist that offers same-day appointments. Timing is critical when an emergency arises. Same-day appointments, after-hours emergency calls, and prompt appointment times can help you receive the treatment you need to relieve your pain and address your emergency.
Quality of Patient Care – It will be in your best interest to learn about the dental technologies used by the emergency dentist you are looking at. An emergency dentist that focuses on patient care will focus on comfort, relaxation, and excellence throughout your emergency repair.
Affordability – Last, but not least, you will need to find out about the cost. If you have dental insurance, you will need an emergency dentist within your plan or network. If you do not have insurance, you will need to find a quality dentist that offers flexible payment plans or financing options.
Mansouri Family Dental Care & Associates is the name that you can trust in East Cobb and the surrounding areas. Our comprehensive dental practice is family-owned and operated. We provide the highest standard in patient care and quality emergency dental services for patients of all ages. Call now for an appointment!
Posted on behalf of Mansouri Family Dental Care & Associates
4720 Lower Roswell Rd
Marietta, GA 30068
Phone: (770) 973-8222
Email: MFamilyDental@gmail.com
Monday, Wednesday & Thursday: 7:30 am - 6:00 pm
Tuesday: 7:30 am - 5:00 pm
Friday: 7:30 am - 3:30 pm