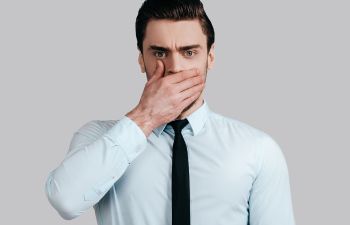 Chronic bad breath (halitosis) is a health problem, and is sometimes a sign of another medical condition. Many of the cases worldwide are due to an inadequate oral health routine. The bacteria break down the food particles between your teeth and gums and on your tongue after eating, producing smelly sulfur compounds. Hydration is also essential, but many people do not drink enough water throughout the day.
What Makes Bad Breath Chronic?
Unlike temporary bad breath caused by a tuna sandwich or "morning breath" – either of which some mints or a good brushing can solve – chronic bad breath remains for an extended period. It does not disappear even after brushing.
However, that does not mean that brushing will not work. Most of the time, you can treat bad breath with regular flossing and brushing and by staying hydrated. If not, it is time to see a dentist.
Tooth decay (cavities) and gum disease can cause halitosis, as can some diseases elsewhere in the body, such as:
Diabetes
Seasonal allergies
Postnasal drip
Respiratory tract infections like pneumonia or bronchitis
Chronic lung infection
Chronic nose, sinus and throat infections
Liver or kidney problems
Chronic acid reflux
Gastrointestinal issues
The expert dental team at Mansouri Family Dental Care & Associates can pinpoint any oral health problems during a checkup and cleaning session and offer you treatment solutions – or rule out dental issues and advise you on your next step. If the problem is not in your mouth, you may need to see a doctor.
Tips to Prevent Bad Breath
Maintain a strict daily oral hygiene routine that involves:

Flossing at least once, preferably before bed and always before brushing your teeth
Brushing at least twice (but after every meal is ideal) for at least two minutes
Brushing your tongue when you brush your teeth
Use mouthwash once (optional, but helps eliminate odor-causing bacteria)

Change your toothbrush every two to three months and after being sick.
Adopt a healthy diet with plenty of hard vegetables like carrots and apples that require considerable chewing. These types of food help increase saliva production in the mouth, which keeps the teeth and gums clean.
Avoid high sugar foods, alcohol and excessive caffeine consumption because they cause tooth decay and dehydration.
Quit smoking or chewing tobacco because it reduces saliva production and increases the risk of gum disease.
Some medications can cause dry mouth or release chemicals when breaking down in the body, resulting in halitosis.
If you wear dentures, take them out before bed and clean them thoroughly before putting them back into your mouth in the morning.
Schedule biannual dental visits. Regularly seeing your Marietta dentist is the best way to identify problems early on and keep plaque and tartar build-up to a minimum.
At Mansouri Family Dental Care & Associates, we encourage preventive dentistry. If you visit us every six months, we can fix oral health issues before they cause halitosis; or teach you how to get rid of the bad breath with proper at-home cleaning techniques.
Posted on behalf of Mansouri Family Dental Care & Associates
4720 Lower Roswell Rd
Marietta, GA 30068
Phone: (770) 973-8222
Email: MFamilyDental@gmail.com
Monday, Wednesday & Thursday: 7:30 am - 6:00 pm
Tuesday: 7:30 am - 5:00 pm
Friday: 7:30 am - 3:30 pm