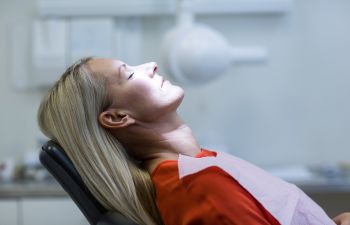 Between 9% to 20% of Americans avoid going to the dentist due to fear and anxiety related to the appointment. Dental phobia is considered a more severe condition than regular anxiety and fear. Dental phobia ultimately results in the avoidance of much-needed regular dental visits, and when a dental appointment is unavoidable due to pain or another dental emergency, it is done with a multitude of physical and emotional responses.
Trypanophobia
Being afraid of needles is one reason for dental phobias.  Being scared of needles is medically known as trypanophobia. This condition is explicitly related to persistent and irrational fear related to injections or blood tests. Symptoms of trypanophobia include high blood pressure, dizziness or fainting, panic attacks, insomnia, dry mouth, sweating, nausea or other emotional responses. These symptoms can occur long before a medical or dental procedure occurs. 
People develop a fear of needles for a variety of reasons. Bad experiences in the past can be one reason for this fear. A general fear of pain or fear of injections may also cause trypanophobia. Other patients may fear the loss of control and personal space when receiving an injection.
Mansouri Family Dental Care & Associates – Providing Effective Sedation Dentistry In Marietta
If you have a dental phobia or have failed to seek needed dental treatment in the past due to fear or anxiety, Mansouri Family Dental Care & Associates can help. We offer three different types of sedation dentistry: nitrous oxide (laughing gas), oral sedative medications, and IV sedation. Call our office today to see how we can help ease your dental fears so you can get the treatment you want and need.
Posted on behalf of Mansouri Family Dental Care & Associates
4720 Lower Roswell Rd
Marietta, GA 30068
Phone: (770) 973-8222
Email: MFamilyDental@gmail.com
Monday, Wednesday & Thursday: 7:30 am - 6:00 pm
Tuesday: 7:30 am - 5:00 pm
Friday: 7:30 am - 3:30 pm