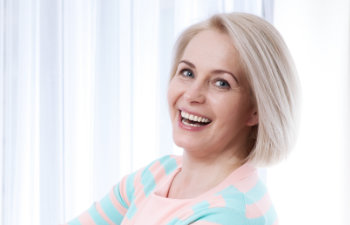 Before implants, dentures were the main method of replacing multiple missing teeth. A partial device or full row of teeth was used to rebuild broken smiles. However, there are several potential issues with dentures that can leave patients less than impressed.
To keep dentures in place, adhesives are used to bind the device to the gums. As a temporary solution, dental glues can work well. The problem is, the effect can wear off at the worst possible moments. Dentures can also become ill-fitting due to changes in the shape of gums or bones. This results in discomfort, pain or difficulty performing normal oral functions.
The solution? Bridges and dentures that are supported by implants. In modern dentistry, patients now have a range of alternatives to traditional dentures. You can identify the best approach to restoring your smile at Mansouri Family Dental Care & Associates.
Implant Supported Bridge
When an unsupported bridge is not viable, implants are the answer. As a dental restoration method, implant supported bridges are typically used on the back molar teeth. Most people use this area of the mouth when chewing, which makes damaged or missing teeth an issue.
Implant Supported Denture
Two or four implants are secured to the bone in the mouth to provide support for a denture. A tight grip is created between the two devices, providing security and comfort. You can eat, drink, speak, smile and laugh without fear of your teeth becoming loose or falling out.
All-on-4 Implant Supported Dentures
All-on-4 Implants are a type of supported denture that is hugely popular. You will feel confident in your smile and the functions of the mouth. At Mansouri Family Dental Care & Associates, patients can attend a consultation to determine if All-on-4 Implants are a viable solution for replacing teeth.
Dental Implant Consultation
Mansouri Family Dental Care & Associates offers a range of solutions for replacing missing teeth in Marietta, Georgia. We invite you to attend a preliminary consultation to discuss your specific needs. Call our offices today to book your appointment with Dr. Mansouri and his compassionate team.
Posted on behalf of Mansouri Family Dental Care & Associates
4720 Lower Roswell Rd
Marietta, GA 30068
Phone: (770) 973-8222
Email: MFamilyDental@gmail.com
Monday, Wednesday & Thursday: 7:30 am - 6:00 pm
Tuesday: 7:30 am - 5:00 pm
Friday: 7:30 am - 3:30 pm