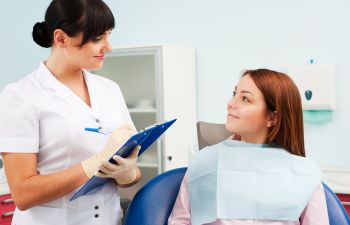 Most people understand the importance of brushing their teeth, and they are good about doing that at least once a day. When it comes to flossing, most people choose not to do this very often. In fact, most people admit to only flossing up to a week before a dental appointment. Therefore, the answer to the question of whether or not you need mouthwash depends on whether you floss or not.
You see, floss is the only tool designed to remove damaging plaque from the teeth. Plaque is made up of acid-producing bacteria that coats your teeth every day. If you are not removing that plaque from your teeth by flossing daily, then your mouth is left extremely vulnerable to cavities, decay, and gum disease.
Mouthwash is not intended to be a substitute for daily flossing or regular brushing. However, it was created because dentists understand that the majority of people do not floss. Mouthwash helps kill bacteria within your mouth in order to prevent damage. Therefore, if you are someone who does not floss daily, then, yes, you need mouthwash.
When you are choosing a mouthwash, it is essential that you look for brands that have the American Dental Association's (ADA) "seal of approval." This seal ensures that the mouthwash has the necessary ingredients to kill damaging bacteria within your mouth.
Now, it is important to understand that using mouthwash will not remove plaque from your mouth; it will only kill the bacteria lingering in the plaque. Without flossing, you will have significant plaque buildup that will harden into tartar. Dental visits will consist of a lot of scraping of your teeth to remove hardened tartar. So, to avoid unwanted scraping at the dentist's office – you are encouraged to start flossing every day!
At Mansouri Family Dental Care & Associates, we want to partner with you in optimal oral health care. Contact us for recommendations for ADA approved mouthwash brands.
Posted on behalf of Mansouri Family Dental Care & Associates
4720 Lower Roswell Rd
Marietta, GA 30068
Phone: (770) 973-8222
Email: MFamilyDental@gmail.com
Monday, Wednesday & Thursday: 7:30 am - 6:00 pm
Tuesday: 7:30 am - 5:00 pm
Friday: 7:30 am - 3:30 pm