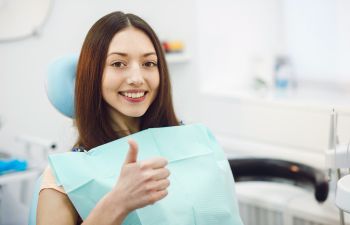 Many people enjoy chewing gum throughout the day, and they chew gum for multiple reasons. Some people enjoy the tasty flavors of chewing gum, some people use it as a breath freshener after they eat, and some people chew gum to help them break bad habits (e.g., biting their nails, eating too much dessert, or smoking). However, there is another reason that some people chew gum, and it has a positive effect on their oral health. While it may sound too good to be true, chewing gum can prevent cavities from forming inside the mouth.
Before you go out and purchase a case of gum, it is important to understand how chewing gum can benefit your oral health and what to look for as you incorporate this new habit.
Every day, there are millions of bacteria living inside your mouth. These bacteria help to break down particles that are left behind after eating and drinking. While these particles mean to be helpful, they produce acids to help them in their endeavors. When acids are left on the teeth, they begin to eat holes in the tooth enamel: cavities.
Chewing gum helps the mouth increase its saliva production. Saliva is necessary for keeping the mouth moist and helping wash away particles and bacteria that are in the mouth. When the mouth is dry, bacteria and acids stick to the teeth and become hard to remove. Chewing gum helps to stimulate the production of saliva to keep your mouth moist. The saliva production that occurs while chewing gum helps to get rid of unwanted acid production so that the oral bacteria inside your mouth do not harm your teeth. It is vital that you choose a sugar-free gum. Oral bacteria are most attracted to sugar, so you do not want to feed them with a poor choice of gum.
At Mansouri Family Dental Care & Associates, we care about your complete oral health. We can happily recommend a sugar-free chewing gum. Of course, chewing gum should never replace daily flossing, daily brushing, and routine dental visits! Call or visit us to learn more.
Posted on behalf of Mansouri Family Dental Care & Associates
4720 Lower Roswell Rd
Marietta, GA 30068
Phone: (770) 973-8222
Email: MFamilyDental@gmail.com
Monday, Wednesday & Thursday: 7:30 am - 6:00 pm
Tuesday: 7:30 am - 5:00 pm
Friday: 7:30 am - 3:30 pm