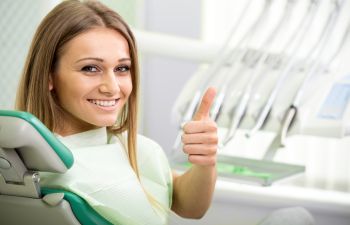 You have been told for years how important it is to drink plenty of water. Getting at least 8 glasses of water into your body is essential for adequate hydration, weight loss, and overall health, but did you know that water provides benefits to your smile?
Water is the healthiest drink available, and these are ways that water can improve your smile.
It washes away the bad stuff. After you eat or drink, and after you wake up each morning, your mouth is full of icky residue full of cavity-causing bacteria. By drinking water frequently throughout the day, you are helping to rinse away bacteria, sugars, and plaque so that they do not adhere to the teeth and gums and cause damage.
Prevent dry mouth. Dry mouth is a condition that is caused by a lack of saliva. Saliva production is probably the most under-appreciated aspect of oral health, yet it is vital to a healthy smile. Saliva is your mouth's first defense against tooth decay. Because saliva is 99% water, it helps to wash away leftover food particles, helps you swallow with ease, and keeps your teeth strong by supplying them with a steady dose of calcium, phosphate, and fluoride. A dry mouth puts you at risk for tooth decay.
Freshen your breath. Again, water washes away the bad stuff – and that includes residues that cause bad breath. Water is a natural breath freshener that keeps your mouth clean and moist.
Hydration without calories. Millions of Americans consume sugary beverages regularly every day. People who consume beverages with high sugar content are 26% more likely to develop type 2 diabetes and have a much higher association with obesity, heart disease, kidney disease, tooth decay, and cavities.
At Mansouri Family Dental Care & Associates, we encourage all of our patients to drink a steady dose of water every day. The benefits of drinking water are endless, and it is the simplest thing you can do to improve your overall health and protect your smile. Make it a goal in 2021 to consume at least 8 full glasses of water a day!
Posted on behalf of Mansouri Family Dental Care & Associates
4720 Lower Roswell Rd
Marietta, GA 30068
Phone: (770) 973-8222
Email: MFamilyDental@gmail.com
Monday, Wednesday & Thursday: 7:30 am - 6:00 pm
Tuesday: 7:30 am - 5:00 pm
Friday: 7:30 am - 3:30 pm