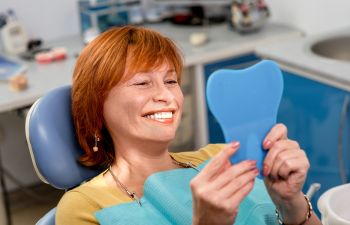 You won't know the importance of your teeth until they are gone. There are several issues you may face when smiling, speaking or eating. While aesthetic factors are important when considering oral health, functionality is often forgotten.
The human mouth has evolved to perform certain functions. The different features within the mouth contribute to breathing, chewing food and communication. If you have damaged or missing teeth, these functions are negatively impacted.
Missing teeth will cause shrinking in the mouth due to weakening of the bone in the affected area. This can create a domino effect, as adjacent tooth loss occurs. The more teeth you lose, the less functional the mouth will become.
Restorative Dentistry
Advanced restorative dentistry is designed to reconstruct your smile. However, it is important to ensure that functionality is also restored. The bone in the mouth is stimulated by the presence of natural teeth. Mimicking this relationship will keep the bone healthy and allow you to smile, speak and eat normally.
Repairing existing teeth is one option. Mansouri Family Dental Care & Associates also offers solutions such as crowns and dental implants. The process involves anchoring an implant to your jaw, followed by using what is known as an abutment to attach a fake tooth.
Implants restore function to the bone but also provide other benefits. You will feel confident when smiling and speaking. These dental devices also make it possible to once again enjoy most foods. However, it is important to look after implants to increase the lifespan of your new teeth.
Brushing Teeth after Restorations
You should follow the advice of your Mansouri Family Dental Care & Associates dentist when it comes to cleaning. There are different recommendations for removable and permanent devices. In both cases, do not assume that fake teeth do not need cleaned. The risk of bacterial infection is still a threat to gums and bones.
If you are tired of pain and discomfort when you eat, or the shape of your face is changing due to missing teeth, Mansouri Family Dental Care & Associates can help. We have solutions to suit every patient, so call today for an appointment.
Posted on behalf of Mansouri Family Dental Care & Associates
4720 Lower Roswell Rd
Marietta, GA 30068
Phone: (770) 973-8222
Email: MFamilyDental@gmail.com
Monday, Wednesday & Thursday: 7:30 am - 6:00 pm
Tuesday: 7:30 am - 5:00 pm
Friday: 7:30 am - 3:30 pm