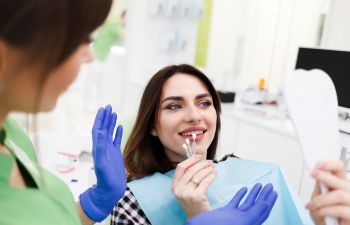 When you look at your smile, do you see an image you want to present to the world? For some people, the shape and size of teeth are important aspects of personal image. If you were not born with pearly whites that turn heads in the right way, it is time to make a change.
There are several options for cosmetic dentistry to enhance your smile, including dental veneers. If you do not like the shape, color or size of your teeth, Mansouri Family Dental Care & Associates has solutions. We can redesign your smile to boost confidence and change your appearance.
Dental Veneers
Dental veneers are thin shells that are crafted from porcelain. This cosmetic appliance is bonded to the teeth permanently. By creating your dental veneers in the desired size and shape, there are countless smile designs from which to choose.
Mansouri Family Dental Care & Associates can use dental veneers to fill gaps in your teeth. If you have a crooked smile, this is your chance to set things straight. We can also bring balance to your smile by resizing the teeth with dental veneers.
Combined Cosmetic Dentistry
Some patients at Mansouri Family Dental Care & Associates improve only visible teeth using dental veneers. You may decide to take this approach in conjunction with other treatments. For instance, crowns are ideal for repairing damaged teeth in the back of the mouth.
Discolored teeth can destroy a beautiful smile. With dental veneers combined with other cosmetic dentistry treatments, you will no longer feel paranoid in social and workplace situations. The team at Mansouri Family Dental Care & Associates also provides teeth whitening treatment to brighten up any remaining natural teeth.
Dental Veneer Consultation
If you live in or near Marietta, Georgia, Mansouri Family Dental Care & Associates would like to invite you to a consultation. Our expert dentist can determine if you are a good candidate for dental veneers. We can also discuss any other cosmetic dentistry options that may benefit your smile.
Call Mansouri Family Dental Care & Associates if you want to improve the appearance of your teeth with dental veneers in Georgia.
Posted on behalf of Mansouri Family Dental Care & Associates
4720 Lower Roswell Rd
Marietta, GA 30068
Phone: (770) 973-8222
Email: MFamilyDental@gmail.com
Monday, Wednesday & Thursday: 7:30 am - 6:00 pm
Tuesday: 7:30 am - 5:00 pm
Friday: 7:30 am - 3:30 pm