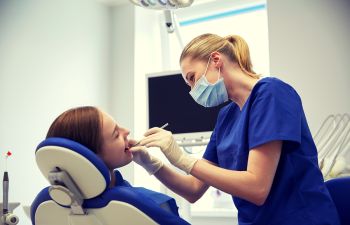 Do you have mouth problems? Wearing a mask comes with many different side effects, some you may not be sure what to do with. If mask-wearing is making you aware of your bad breath or causing inflammation in your gums, keep reading to learn how to help overcome the condition now being dubbed "mask mouth".
As dentists are seeing more and more patients in person again, they are finding that patients are showing up with nasty symptoms. Even healthy patients with a history of stellar oral health are dealing with issues like severe bad breath, decaying teeth, and receding gum lines. Wearing a mask for several hours every day is contributing to oral health issues that are raising major concerns in dental practices nationwide.
There are many contributing factors to "mask mouth," and it is important to be aware of them so that you can take measures to protect your oral health.
Dry mouth. Wearing a facial mask increases dryness in the mouth. This dryness leads to a buildup of bacteria that harm the teeth and gums.
Mouth breathing. People find that they breathe through their mouths when wearing a mask because the mask limits their air supply. Mouth breathing causes dry mouth and leads to a decrease in saliva production. Saliva is what is necessary to fight oral bacteria and continually rinse them from the mouth. Saliva also neutralizes acids inside the mouth to help prevent tooth decay and gum disease. Without adequate saliva production, the teeth are extremely vulnerable to decay.
Dehydration. People are much less likely to drink adequate amounts of water when their faces are covered and they are "restricted" from removing their masks. Dehydration can cause serious health concerns and lead to problems related to oral health.
While many people feel strongly about mask-wearing, and sometimes masks are required, it is vital to take steps to avoid the nasty side effects of wearing a mask. At Mansouri Family Dental Care & Associates, we are here for all of your oral health needs. Contact us today.
Posted on behalf of Mansouri Family Dental Care & Associates
4720 Lower Roswell Rd
Marietta, GA 30068
Phone: (770) 973-8222
Email: MFamilyDental@gmail.com
Monday, Wednesday & Thursday: 7:30 am - 6:00 pm
Tuesday: 7:30 am - 5:00 pm
Friday: 7:30 am - 3:30 pm