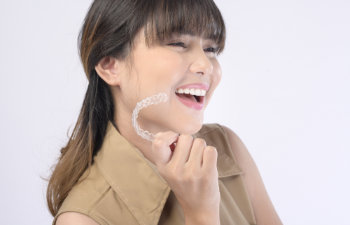 Are you embarrassed by crooked teeth? Invisalign® treatment can be an effective way to straighten your teeth for a beautiful and healthy smile. These clear dental devices are ideal for individuals who want to avoid the hassles of traditional braces. Taking care of your aligners can help you achieve the results you desire. Here are three tips to help you protect your Invisalign aligners from damage.
Swap Your Aligners on Schedule
You need to wear your Invisalign aligners most of the time and swap when directed. Over time, you will change your aligners every few weeks as changes occur with your teeth. This will help keep your teeth straight to achieve the best possible results. Changing your aligners too soon or too late can affect the results you can receive with treatment.
Remove Invisalign at Meal Times
Eating or drinking while wearing your Invisalign aligners can cause damage that can prevent your teeth from properly straightening. You can cause your aligners to bend, break or stain. Once you finish eating or drinking, rinse your mouth thoroughly first to eliminate food particles that can get stuck in your Invisalign aligners. Keep your aligners in the protective case when not in use to protect against damage. You may be tempted to use your napkin to wrap your aligners during meal times, but this can lead to damage or loss from accidently tossing in the trash.
Proper Cleaning of Your Invisalign Aligners
Unwanted buildup and damage can happen if you fail to keep your Invisalign aligners clean. You can clean your aligners twice daily with toothpaste and a soft toothbrush or denture cleaner. Be gentle when brushing to avoid scratches. Use cool or lukewarm water when brushing to prevent warping. Rinse your aligners thoroughly before placing back into your mouth.
Are Invisalign Aligners Right for You?
If you need to correct crooked teeth, Invisalign can be a great investment. The entire process can take approximately a year before you achieve optimal results. The experienced professionals at Mansouri Family Dental Care & Associates can help you achieve a beautiful smile with Invisalign aligners and other restorative dental services. Call to request an appointment today to discover if you are an ideal candidate.
Posted on behalf of Mansouri Family Dental Care & Associates
4720 Lower Roswell Rd
Marietta, GA 30068
Phone: (770) 973-8222
Email: MFamilyDental@gmail.com
Monday, Wednesday & Thursday: 7:30 am - 6:00 pm
Tuesday: 7:30 am - 5:00 pm
Friday: 7:30 am - 3:30 pm