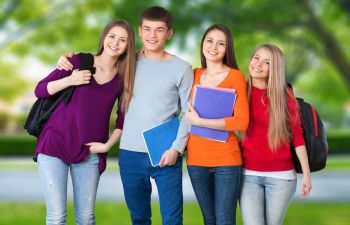 Did you have a child graduate from high school with the class of 2019? If so, congratulations, you all made it to the finish line. If your child's next educational step is going off to college, we're sure you're busy with an extensive checklist of all the things you need to do and purchase before they move away from home. Unpakt offers helpful lists for The Ultimate College Packing Checklist. There's a lot to remember, and it's easy to forget things when all you can focus on is not having your "baby" living at home anymore.
One item many families forget before sending a college student away is a dental cleaning and checkup. If your child is going many miles away, they will need to find a dental practice to care for their dental needs. College students' time is valuable, and it can be challenging to find and establish a new dentist in their new college town.
Take the time to get your soon-to-be college student a dental cleaning and checkup before he leaves. During our dental cleaning and checkup, we will provide a thorough professional cleaning. Our focus is on prevention and education during these routine dental cleanings and exams. We will examine your child's mouth for problems so we can take care of them before they leave.
Call and book your soon-to-be college student's dental cleaning and checkup today at our family dental practice. We look forward to seeing you and wishing you our very best as your family embarks on the next big adventure in life.
Posted on behalf of Mansouri Family Dental Care & Associates
4720 Lower Roswell Rd
Marietta, GA 30068
Phone: (770) 973-8222
Email: MFamilyDental@gmail.com
Monday, Wednesday & Thursday: 7:30 am - 6:00 pm
Tuesday: 7:30 am - 5:00 pm
Friday: 7:30 am - 3:30 pm