Are you seeking best dental implants specialists in the Lawrenceville area? For premium quality dental implants in Lawrenceville, turn to the experienced professionals at Mansouri Family Dental Care & Associates. We are a comprehensive, family dental practice that offers a full range of restorative dental services including dental implants. We have an Oral Surgeon on staff and our dentists are highly trained and experienced in placing dental implants that result in healthy, beautiful, long-lasting smiles. If you are currently missing teeth or are tired of wearing partial or full dentures, schedule a consultation today to find out if you are a candidate for this revolutionary tooth replacement system.
Schedule Your Virtual Dental Implant Consultation Now!
Tooth Replacement Starts with Your Virtual Consultation
If you are missing teeth, dental implants are your best option to restore your smile, your teeth, and your confidence. An implant is a titanium "root" that can be placed in the jaw and integrated into the bone to support a crown or bridge, or to secure a complete denture. Dental implants have an extremely high success rate and are now considered the standard of care for replacing missing teeth.
Are You An Implant Candidate? Find Out Now!
If you live in Lawrenceville and are looking for qualified, experienced implants dentists, call Mansouri Family Dental Care & Associates. Dental implants are a revolutionary tooth-replacement system that provides for replacement teeth that look, feel, and function like natural teeth. Most patients with missing teeth are candidates for this procedure. The dentists and staff at Mansouri Family Dental Care & Associates are pleased to be able to offer this life-changing treatment to patients in Lawrenceville and the surrounding areas.
To find out more information about tooth restoration and dental implants, call Mansouri Family Dental Care & Associates. today. Our practice is currently accepting new patients and we would welcome the opportunity to care for you and your family. We offer competitive prices on all dental services, including dental implants. Our practice welcomes patients with and without dental insurance.
Nothing can replace your natural teeth, but dental implants are the next best thing as part of our oral surgical care. Dental Implants are made of titanium and act as an artificial tooth root. Dental Implants have been placed successfully for over 40 years because of its compatibility with the body and its ability to integrate with the natural bone of the jaw. Dental Implants do not rely on other teeth and are secure, reliable, and have predictable results.
Which Implant Treatment is right for you?
Single Tooth
Dental Implant Placement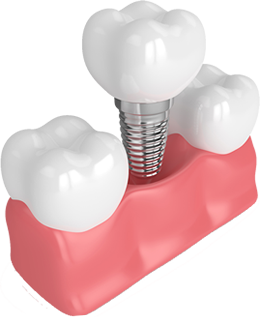 If you are missing a single tooth the best option is almost always a Dental Implant. A single tooth implant does not involve any of the adjacent teeth and allows for a more natural function and maintenance of the tooth. This will increase the comfort and longevity of all the teeth. We are highly trained dental implant specialists and will provide a custom treatment plan to replace your tooth.
Implant-Supported
Bridge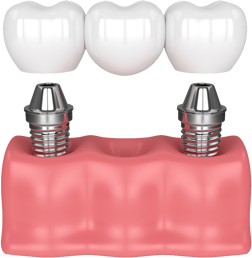 When missing multiple teeth and a traditional bridge may not be an option, two or more implants are placed to support an implant bridge. This option is mostly used on the back molar teeth area where most chewing is done. The implant-supported bridge is a common type of implant placement and a great solution for patients missing multiple teeth. Call now to schedule your dental implant consultation.
Implant-Supported
Denture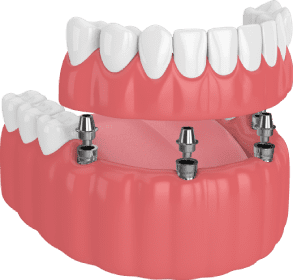 Implant-supported dentures provide the most secure and stable platform for the denture. These implants provide special attachments for the denture to lock into giving you a tight and secure feel when biting or chewing. Implant-Supported Dentures require two to four implants to be placed to give you the best fit, they are long-lasting and will never require any adhesive to hold the denture in place.
All-on-4 Implant Support Dentures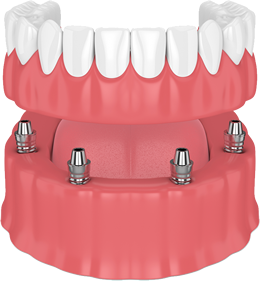 All-on-4 Implant-supported dentures are currently a popular option to secure dentures in place. The All-on-4 solution is a long-lasting solution that does not require adhesives to hold your dentures in place and they will provide a very secure feeling when smiling or chewing food. Dr. Mansouri is a known Implant Supported Dentures specialist and he can advise you if All-on-4 is the right choice for you.
Single Dental Implant
All on 5 or 6
Dental Implant Stabilization
What are Dental Implants?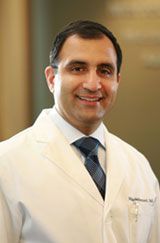 Dr. Michael Mansouri completed a one year advanced training at Medical College of Georgia for Implant Dentistry.
He holds active memberships in:
American Academy of Implant Dentistry, American Academy of Cosmetic Dentistry, Georgia Academy of Cosmetic Dentistry, American Dental Association, Academy of General Dentistry, American Academy of Oral Medicine, Northern District Dental Society, Pennsylvania Dental Association, American Dental Society of Anesthesiology, Founding member of International Stomatognathic Honorary Alliance, and Hinman Dental Society.
He wants to provide the best care for his patients in the most comfortable and calming environment and so Dr. Mansouri pursued additional training and is licensed to perform Conscious Oral and IV Sedation, where he can provide pain-free and anxiety-free dentistry for all his patients. Read more about Dr. Michael Mansouri
Contact our Lawrenceville Dental Implants Office to determine if dental implants may be the right solution for you.
Schedule Your Virtual Dental Implant Consultation Now!
All on 6

Implant retained dentures

All on 6