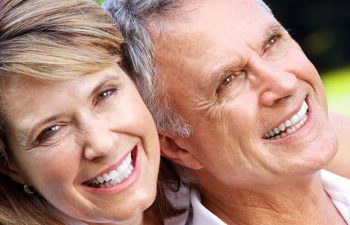 Do you have missing teeth? Have you noticed how those gaps in your smile also change the shape of your face and jawline? That is because teeth do more than help you consume food. They also preserve your jaw bone, which begins to shrink when teeth go missing.
As the bone structure becomes smaller, your mouth and cheeks sink and sag from lack of support – a crisis called facial collapse. This only becomes more noticeable the longer you choose not to replace your missing teeth. But there is a simple solution: dental implants.
How Do Dental Implants Prevent Facial Collapse?
Dental Implants prevent and even reverse facial collapse, restoring your normal facial appearance. They help revive missing bone mass in the jaw and fill the voids in your smile. It may seem like a small gap, but that space affects the fullness of your lips and alters your smile.
How Do Missing Teeth Affect the Jaw Bone?
Teeth in the jawbone stimulate the body to deliver calcium. However, the body no longer receives this message when the tooth is gone. So, the jaw stops receiving calcium, and your body even starts to remove it from the area to deliver it elsewhere – a process called resorption. Hence, the bone begins to deteriorate, and your jaw shrinks, altering your whole face.
How Do Dental Implants Stop Resorption?
Dental implants are rods inserted into the jawbone. The body notices the presence of something and begins sending calcium to the jaw, thinking it is a tooth. Therefore, dental implants can stop and even reverse jaw shrinkage by encouraging bone growth.
Additional Benefits of Dental Implants
Dental implants are forever, as long as you take care of them. In addition, the crown placed on the implant feels and looks like a natural tooth. So, nobody will know you have artificial teeth.
Choose Dental Implants Over Dentures
While dentures fill the missing gaps and make it easier for you to eat, they do not prevent resorption. Instead, you need dental implants that act like the root of a tooth to stop your jaw from shrinking.
If you lost one or multiple teeth, choose dental implants to preserve the shape of your face and keep your youthful appearance for as long as possible. At Mansouri Family Dental Care & Associates, we can provide you with dental implants and any other oral health needs you have. Contact us to learn more today.
Posted on behalf of Mansouri Family Dental Care & Associates
4720 Lower Roswell Rd
Marietta, GA 30068
Phone: (770) 973-8222
Email: MFamilyDental@gmail.com
Monday, Wednesday & Thursday: 7:30 am - 6:00 pm
Tuesday: 7:30 am - 5:00 pm
Friday: 7:30 am - 3:30 pm