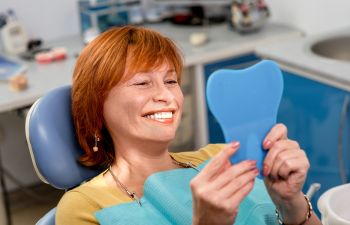 If you have missing teeth, you may feel that your face looks prematurely aged. If you compare pictures of yourself before and after your tooth loss, you may see skin sagging where it once was supported by bone and teeth. Natural tooth loss may make you look older, but there are obtainable solutions.
A healthy, youthful face sits on a strong foundation. The teeth and jawbone affect the lower third of your face, including your chin and mouth. Missing teeth leads to bone loss and bone loss increases the likelihood of more teeth being lost. This results in:
An increased sunken look to the face with flattened cheeks

A smile with increased wrinkles in the mouth area

Thinner lips

A less defined jawline with sagging skin that can affect the look of the neck
Gratefully, you can obtain a more youthful look without plastic surgery. Plastic surgery cannot address the underlying issues that grafting and dental implants can. Even if your teeth were lost at a young age, you may still qualify as a candidate to receive dental implants.
Reclaiming Youthful Good Health with Grafting and Implants
The lack of healthy teeth can cause the jawbone to atrophy, or be reabsorbed, and can result in poor bone quality and quantity. As the jaw declines, the variety of foods one is able to eat diminishes, affecting nutrition and enjoyment. Speech can become affected and the ability to speak easily and clearly without impediments can also diminish.
In such a state, a patient is not eligible for teeth implants without bone grafts. Though this may sound complicated, it can be accomplished with a revolutionary technique using bone matter from your own body or another organic source, making it both safe and less biologically invasive.
You can recapture a more youthful appearance with the help of the Mansouri Family Dental team. We will walk you through every step of the grafting process, and then the process for receiving dental implants. Dental implants can stimulate your bone to prevent reabsorption. You will can then retain your jawbone, reverse premature aging and return the youthful markers to your appearance.
Call us at Mansouri Family Dental for more details and get on the road to a more youthful appearance.
Posted on behalf of Mansouri Family Dental Care & Associates
4720 Lower Roswell Rd
Marietta, GA 30068
Phone: (770) 973-8222
Email: MFamilyDental@gmail.com
Monday, Wednesday & Thursday: 7:30 am - 6:00 pm
Tuesday: 7:30 am - 5:00 pm
Friday: 7:30 am - 3:30 pm