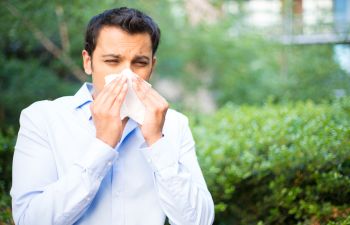 Spring is in full swing, and so is allergy season. When your nose is stopped up, your eyes watering, and your nightstand covered in tissues from sneezing and blowing your nose, the last thing on your mind is probably your oral health. However, allergies can take their toll on your mouth. Here's what to look out for.
Tooth Pain
Sinus pressure is a common symptom of allergies. The nasal passageways and maxillary sinuses fill up with mucus, causing aches and pains in the face. When the sinuses are filled up, they will put pressure on the sinuses and can push down on the roots of the upper teeth. Tooth pain may often shift as you move your head, and you may experience sensitivity to hot and cold.
Dry Mouth
Allergies can cause dry mouth in two ways. First, when your nose is stuffy, you will open your mouth to breathe. This will cause your mouth to dry out. Second, many allergy medications contain antihistamines, which include dry mouth as a side effect. A dry mouth is more than just uncomfortable. It can greatly increase your chances of developing cavities, gum disease, and severe bad breath.
Sore Throat
A sore throat is a common symptom of allergies due to postnasal drip. The combination of sore throat and postnasal drip can lead to bad breath, but because it initiates in the throat, brushing your teeth won't help much.
What to Do
During allergy season, and also during times of illness, your oral health needs to remain a priority. Keep yourself hydrated to avoid dry mouth and sore throat. Gargle with salt water to help draw mucus out of your sinuses and cut down on harmful bacteria inside your mouth. Floss and brush regularly to keep your teeth and gums healthy.
If you are worried about how allergies are affecting your oral health, talk to your dentist. Your dentist can give you personalized recommendations based on your oral health history.
Posted on behalf of Mansouri Family Dental Care & Associates
4720 Lower Roswell Rd
Marietta, GA 30068
Phone: (770) 973-8222
Email: MFamilyDental@gmail.com
Monday, Wednesday & Thursday: 7:30 am - 6:00 pm
Tuesday: 7:30 am - 5:00 pm
Friday: 7:30 am - 3:30 pm