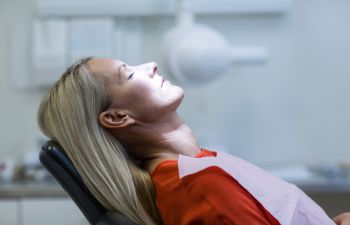 If the thought of visiting the dentist causes you anxiety, you are not alone. Going to the dentist is a common phobia, but it can damage your health. Avoiding the dentist's office for routine cleanings sets you up for problems in the future. When you don't receive treatment for painful teeth, you risk tooth loss, infection and nutritional deficiencies if you can't eat properly. Sedation dentistry addresses dental anxiety and ensures you get the care you need.
Which Type of Sedation Is Right for You?
There are different levels of sedation dentistry, but not every dentist is qualified to use all of them. Depending on your level of apprehension, you may need a more complex sedation. For that, you will need to find a dentist qualified to perform the procedure. Some available sedations are:
Inhaled sedation
Also known as nitrous oxide, or "laughing gas," this is a minimal sedation. You will be relaxed, but not sleepy. It is fast acting, but it also doesn't last long.
Oral sedation
Oral sedation is given as a pill. It can achieve minimal to moderate sedation. With a smaller dose, you'll feel relaxed and a little sleepy. Unlike nitrous oxide, minimal oral sedation is slower to act, but the effects last longer. A moderate sedation will make you very sleepy, but you remain awake.
IV moderate sedation
You will receive fluids through an IV. The doctor will add the sedative to the IV line, and it will act very quickly. You may doze off into a light sleep. The benefit with this method is the dentist can continuously control your sedation.
Get the Sedation You Need
Dental anxiety is nothing to be embarrassed about. Dentists see many patients every year who require sedation to undergo dental procedures, including routine cleanings. To ensure you receive the right level of comfort, you need a dental team qualified to perform all types of sedation. Mansouri Family Dental Care & Associates is licensed to perform all forms of sedation dentistry. To get the dental care you deserve, contact us today and put your mind at ease.
Posted on behalf of Mansouri Family Dental Care & Associates
4720 Lower Roswell Rd
Marietta, GA 30068
Phone: (770) 973-8222
Email: MFamilyDental@gmail.com
Monday, Wednesday & Thursday: 7:30 am - 6:00 pm
Tuesday: 7:30 am - 5:00 pm
Friday: 7:30 am - 3:30 pm