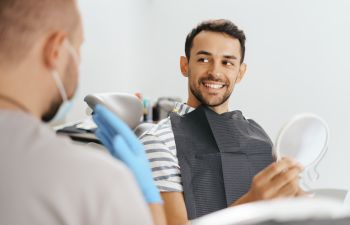 Do you suffer from multiple, complex oral health problems? Gingivitis, constant toothaches and infections can make your life miserable. These issues will persist and worsen if you do not receive appropriate treatment in Marietta, GA.
Gums, teeth and bones in the mouth suffer due to poor oral health. If you do not brush and floss twice a day, decay and infections can set in. This will lead to toothaches, gum disease and potential loss of teeth.
Dental Restorations
Dental restorations for patients dealing with complex oral health issues can improve aesthetics and restore function. By restoring or replacing teeth, Mansouri Family Dental Care & Associates can rebuild your smile.
Fillings help to protect natural teeth from further decay and infection. When food particles get trapped in cavities, the resulting breakdown produces bacteria and acids. Your teeth will begin to decay, leading to toothaches and possible infection in the pulp of the teeth.
Bridges, crowns, implants and dentures are used to replace missing teeth. You will regain the ability to eat and drink in comfort. Implants also stimulate bone growth, which is impacted when a tooth is missing. At Mansouri Family Dental Care & Associates, we will tailor care to your complex oral health needs.
Smile Aesthetics
Even if decaying or missing teeth are not causing pain or discomfort, your smile will suffer. You may find that you hide your teeth, which impacts on how you speak. Patients with complex oral health issues will benefit from restorative and cosmetic dentistry.
Mansouri Family Dental Care & Associates can combine treatments to improve the appearance of your smile. Cosmetic dentistry often compliments restorative procedures. Our goal is to restore both the function and aesthetics of your smile in Marietta.
A smile can speak volumes about who you are. When you are unable to smile due to discolored or damaged teeth, it is time to consult with Mansouri Family Dental Care & Associates. We have extensive experience in restoring optimal health and beautiful smiles at our Georgia offices.
Call Mansouri Family Dental Care & Associates today to book a smile makeover appointment.
Posted on behalf of Mansouri Family Dental Care & Associates
4720 Lower Roswell Rd
Marietta, GA 30068
Phone: (770) 973-8222
Email: MFamilyDental@gmail.com
Monday, Wednesday & Thursday: 7:30 am - 6:00 pm
Tuesday: 7:30 am - 5:00 pm
Friday: 7:30 am - 3:30 pm