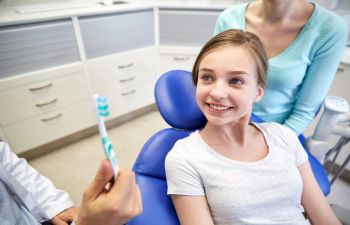 Now that schools are open again and students get to return to the classroom, parents and kids are celebrating. Some schools require students to have health and dental checkups before returning. This may seem like an inconvenience; however, there is a good reason for starting the school year with these important exams.
According to the American Dental Association, dental disease is the most common health issue for school-aged children. Over 51 million school hours are missed each year by children because of dental disease. The annual checkup identifies potential problems so they can be addressed, and it minimizes the chances of dental problems affecting your child during the school year.
Protecting Your Child's Teeth
Tooth decay can have a devastating effect on your child's health. It can interfere with the child's ability to chew, speak and focus on school activities. The pain and discomfort caused by tooth infections can be avoided with early intervention.
Your dentist will perform a comprehensive examination of your child's teeth, gums and soft tissues to identify any problems or potential problems. Diagnostic x-rays may be taken, if necessary, when the dentist needs to see what is happening below the surface. Digital x-rays reveal the extent of tooth decay and other problems that may be developing in the bone or with development of teeth in the jaw.
The first permanent molars begin to appear at about 6 or 7 years of age. When they come in, they have deep grooves and fissures in which bacteria and food debris can accumulate and cause cavities to develop. These teeth can be protected from decay on the chewing surface when dental sealants are applied.
Dental Sealants
The material used to seal teeth is a plastic-like substance that is applied to the surface of the teeth. This thin layer fills in the grooves and pits of the molars so that food debris and bacteria cannot settle in them. Sealants last for years, although they can get worn down and may need to be replaced from time to time. About 80% of the risk of dental decay is reduced when sealants are placed on the teeth.
Mansouri Family Dental is dedicated to ensuring you and your children have the best dental care for healthy, bright smiles. Contact us today to schedule your child's back-to-school examination for a school year with healthy smiles.
Posted on behalf of Mansouri Family Dental Care & Associates
4720 Lower Roswell Rd
Marietta, GA 30068
Phone: (770) 973-8222
Email: MFamilyDental@gmail.com
Monday, Wednesday & Thursday: 7:30 am - 6:00 pm
Tuesday: 7:30 am - 5:00 pm
Friday: 7:30 am - 3:30 pm