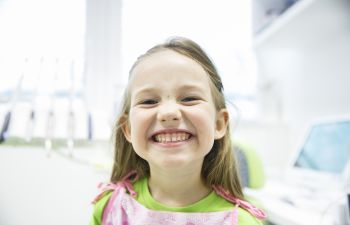 Children are growing and changing all the time. Any parent will attest to the major differences they can see in their children from month to month, especially when children are little. Children grow and develop rapidly during the first few years of life. Though the changes seem to slow down as they get older, children are actually changing in significant ways until they reach adulthood. Because of this rapid growth and development, there is a huge importance for children to receive early dental care.
The American Dental Association recommends that all children visit the dentist before reaching the age of 2. There are two main reasons why this age is important, and through understanding the significance, you can help protect your child's smile.
Early exposure to dental visits helps your child gain a healthy view of the dentist. At the first few appointments, par any significant issues, the dentist and dental hygienist will simply make the appointment fun. They will count your child's teeth, teach them how to make brushing fun, and explain to them how to keep their smile clean. This time at the dentist's office will allow your child to become comfortable visiting the dentist, and he or she will learn the importance of regular visits.
By taking your child to the dentist from an early age, your dentist will be able to get a "baseline" view of your child's oral health. As your child grows and develops, your dentist will be able to notice right away if there are issues with your child's teeth, gums, jawline, or oral development. Having a baseline for your child's oral health is the greatest advantage your dentist can have.
At Mansouri Family Dental Care & Associates, we are committed to providing excellence in dental care to patients of all ages. We welcome our young patients in, and our entire staff is dedicated to making the experience comfortable and fun. Call today to make your child's appointment.
Posted on behalf of Mansouri Family Dental Care & Associates
4720 Lower Roswell Rd
Marietta, GA 30068
Phone: (770) 973-8222
Email: MFamilyDental@gmail.com
Monday, Wednesday & Thursday: 7:30 am - 6:00 pm
Tuesday: 7:30 am - 5:00 pm
Friday: 7:30 am - 3:30 pm