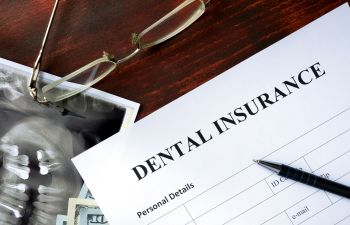 The end of the year is closer than you think, so be sure to make the most of your dental insurance benefits before they reset for next year. Many people forget about the benefits of using their dental insurance until it is too late. Now is the time to check your policy and make arrangements to get the dental care you need.
At the very least, if you have not made time for your annual dental checkup, now is a good time to do it. Most dental insurance companies will pay for preventive care. This includes your dental checkup, professional teeth cleaning and x-rays, if needed. Preventive care is also the best way for you to save money on your dental bill, because problems can be identified early and addressed before they have an opportunity to develop into larger problems.
You may be able to save hundreds of dollars on dental bills by checking your dental insurance and using it to your advantage. You should know your deductible and how much is provided for your annual maximum allowance. You also need to know if your plan runs on a calendar year or a fiscal year. The insurance plans reset a year from the start of the plan date.
The Annual Maximum
Dental insurance plans usually have a cap on how much they will pay for your dental work each year. This amount is generally around $1000 for each person covered by the insurance policy. Your annual maximum resets each year, so if you do not take advantage of it, you lose that benefit and start over the next year.
For this reason, it is wise to check your policy and the balance of your annual maximum if you have already had some dental work performed this year. If you have not had dental work performed yet, you may want to schedule an appointment to find out if any dental procedures are needed and have them completed before the end of the year.
Be aware that you will be required to pay out-of-pocket for any costs that exceed the annual maximum. When there is extensive dental work to be performed, some patients choose to have some work done in one year, so as not to exceed their maximum allotment, and have the remainder finished in the following year so it will be covered.
Know Your Deductible
Your insurance company will pay for your dental care after you meet your deductible. This can be as little as $50 or more depending on the policy you hold. Remember that your deductible will also reset in the following year.
Mansouri Family Dental Care & Associates is committed to ensuring that each of our patients achieves and maintains optimal dental health. We can also help you make the most of your dental insurance. Avoid losing your benefits by scheduling an appointment with us before the year comes to a close. Call us today to schedule your dental appointment.
Posted on behalf of Mansouri Family Dental Care & Associates
4720 Lower Roswell Rd
Marietta, GA 30068
Phone: (770) 973-8222
Email: MFamilyDental@gmail.com
Monday, Wednesday & Thursday: 7:30 am - 6:00 pm
Tuesday: 7:30 am - 5:00 pm
Friday: 7:30 am - 3:30 pm