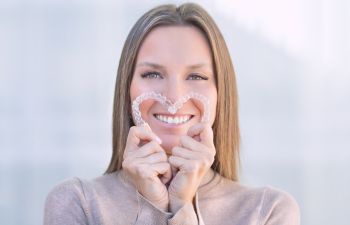 There is no doubt that straight teeth are easier to keep clean without plaque collecting in hard-to-reach nooks and crannies. An uneven bite can also lead to neck pain, headaches and uneven wearing of tooth enamel.
The Invisalign® system represents an exciting alternative to traditional braces for correcting crooked teeth. Rather than the mouth structure being manipulated by metal bands affixed to the teeth, a clear aligner is worn to encourage a beautiful smile.
What Are the Disadvantages of Metal Braces?
Metal braces are fairly complex in design, and require maintenance and repair to achieve the desired outcome. Initially, brackets must be bonded directly to the surface of the tooth. As an ongoing process, the rubber bands that hold the wiring in place require replacement, and the wire itself must be tightened and adjusted. This results in lengthy, frequent orthodontic visits. With Invisalign, appointments are shorter and less arduous, as they involve simply changing the current aligner for the next one in the treatment plan.
Maintaining good oral hygiene is much more difficult with braces. The presence of brackets and wires makes brushing and flossing more of a challenge. Failure to properly care for the teeth while wearing braces can lead to swollen gums, cavities and permanent scarring of the tooth enamel.
It takes the mouth some time to get used to metal braces, as they painfully scratch the teeth and lips. You may experience pain in the teeth as the treatment begins to work. Making yourself feel better by consuming some of your favorite treats is now off the table, as your diet is restricted when wearing braces. Candy, bagels, popcorn, apples and more must be avoided during the process.
Why Would Invisalign Work for Me?
The Invisalign system is mostly recommended for its discreet appearance. The look of metal braces still carries stigma, especially for teenagers. Invisalign solves this problem by being almost unnoticeable, which is why it is a favorite for many celebrities.
As Invisalign is a removable aligner, eating and drinking as normal is a more comfortable experience. Brushing and flossing is a breeze when you don't have to worry about fixed braces. Without the wires and brackets involved with metal braces, Invisalign is much more comfortable to wear.
To find out if Invisalign is the right orthodontic treatment for you or your child, contact Mansouri Family Dental Care & Associates in Marietta, Georgia today.
Posted on behalf of Mansouri Family Dental Care & Associates
4720 Lower Roswell Rd
Marietta, GA 30068
Phone: (770) 973-8222
Email: MFamilyDental@gmail.com
Monday, Wednesday & Thursday: 7:30 am - 6:00 pm
Tuesday: 7:30 am - 5:00 pm
Friday: 7:30 am - 3:30 pm