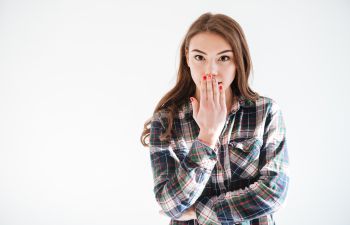 We've all been there. Bad breath is something that everyone deals with from time to time, but when your bad breath becomes a chronic issue, you should see your dentist for help.
An issue becomes a chronic issue when it is continual or occurring again and again for a long time. If you have bad breath nearly every day or your bad breath returns quickly after brushing your teeth, it is considered chronic. No amount of peppermints or mouthwash can mask the smell, and it is time to call your dentist. Chronic bad breath, medically termed halitosis, can wreak havoc on your personal life, your self-esteem, and even hinder you in the job force. Halitosis can also be a warning sign of a more severe condition.
Chronic bad breath is more than just eating a pungent Italian meal full of garlic and onions. Persistent halitosis is caused by bacteria inside the mouth. Millions of bacteria exist in the mouth, which are meant to help break down particles left behind after eating and drinking. However, without proper oral hygiene, bacteria build up in excessive numbers, creating plaque and tartar, which lead to a foul-smelling sulfur odor. On top of this odor, excess bacteria and plaque can also cause dental health conditions such as:
Cavities
Severe decay
Gum disease
Dental abscess
Dry mouth
Eliminating Bad Breath
Here's the good news – you have the tools to eliminate bad breath. The best and fastest way to combat halitosis is by practicing proper oral hygiene. Flossing every day, brushing your teeth twice a day for a full two minutes each time, and rinsing your mouth are the critical components to oral hygiene. These simple steps help rid the mouth of bacteria between dental visits, and they will help improve your breath.
If you find that your breath still stinks after implementing proper oral hygiene, it is time to bring the issue up with your dentist. Your dentist will be able to detect any signs of decay, gum disease, or infection that is the underlying cause of your bad breath.
You don't have to live with bad breath! At Mansouri Family Dental Care & Associates, we offer comfortable and patient-centered dental care. We are here to help you with all aspects of oral health. Call today to learn more about halitosis treatment options.
Posted on behalf of Mansouri Family Dental Care & Associates
4720 Lower Roswell Rd
Marietta, GA 30068
Phone: (770) 973-8222
Email: MFamilyDental@gmail.com
Monday, Wednesday & Thursday: 7:30 am - 6:00 pm
Tuesday: 7:30 am - 5:00 pm
Friday: 7:30 am - 3:30 pm